March 12 prayer to San Luigi Orione: he committed himself with all his strength for the good of young people and orphans.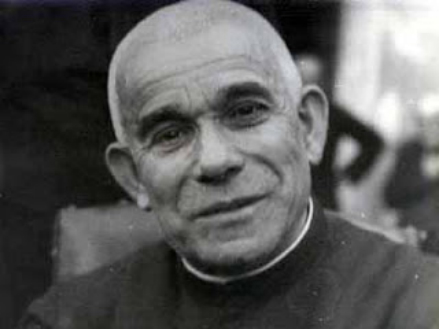 O Most Holy Trinity, Father, Son and Holy Spirit,
We adore you and thank you for the immense charity
that you spread in the heart of San Luigi Orione
and to have given us in him the apostle of charity, the father of the poor,
the benefactor of aching and abandoned humanity.
Allow us to imitate ardent and generous love
that St. Louis Orion brought to you,
to the dear Madonna, to the Church, to the Pope, to all the afflicted.
For his merits and his intercession,
grant us the grace we ask of you
to experience your divine Providence.
Amen.
LITHANIES OF SAN LUIGI ORIONE
Lord, have mercy Lord, have mercy
Christ, pity Christ, pity
Lord, have mercy Lord, have mercy
Santa Maria pray for us
St. Joseph pray for us
San Luigi Orione pray for us
Son of Divine Providence pray for us
Totally abandoned to the Providence of the Father, pray for us
Formed at the school of the Crucifix, pray for us
You lived to renew everything in Christ, pray for us
In love with Mary, Mother of God pray for us
Full of trust in the Holy Madonna, pray for us
Devotee of St. Joseph pray for us
Poverty lover pray for us
Humble and obedient priest pray for us
Pure priest of heart prays for us
Father of the orphans pray for us
Youth confidant pray for us
Missionary in the poorest countries pray for us
Faithful to the Holy Church and to the Pope, pray for us
You who have worked and suffered for the unity of the church pray for us
Master of trust in Divine Providence pray for us
You who teach us love for the Pope pray for us
You who want us to walk at the head of the times pray for us
Example of silence and forgiveness pray for us
You who teach us to love even those who do not love us pray for us
You who recommend us to always do good, never harm anyone
pray for us
You who intercede for unbelievers pray for us
Thou devoted to the souls of purgatory pray for us
Friend of the poor and despised, pray for us
Defender of the rights of the poor pray for us
Comfort of the suffering pray for us
Tireless in running after sinners, pray for us
Our intercessor before God prays for us
Lamb of God, who takes away the sins of the world
forgive us, Lord
Lamb of God, who takes away the sins of the world
hear us, Lord
Lamb of God, who takes away the sins of the world
have mercy on us, Lord